JAMS.TV Pty Ltd marks the 17th anniversary of its founding in 2022. With the philosophy of "bringing Australia and Japan into a more synergistic relationship," the company has worked to provide a wide range of lifestyle and tourism information alongside advertising services for Japanese residents, local business operators, government agencies, and various organisations in Australia.
JAMS.TV Pty Ltd has taken another step towards strengthening this relationship with the successful staging of the "Australian Sake Awards" (ASA), held by the company at Paddington Town Hall in Sydney on September 17, 2022.
The purpose of the event was to contribute to the long-term development of the Australian sake market by showcasing its diverse appeal while cultivating sake experts.
At the competition, sake entries from Australia and abroad were tasted and judged by a panel of experienced Australian judges aiming to select sake most favoured for the domestic market.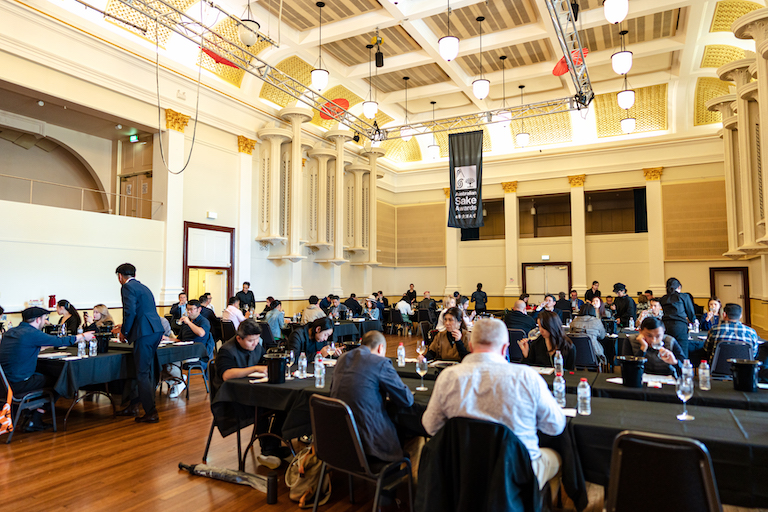 The judges were all professionals with a deep understanding of consumers, and consisted of Australian sommeliers, sake retailers, people in the restaurant industry, sake licence holders, and sake importers and wholesalers. Prior to the event, all the judges attended a special sake lecture, and were kept unaware of the identities of each brew to ensure impartiality in the judging process.
On the testing day, 196 brands of sake were lined up to be tasted by 65 judges. At the opening ceremony, two representatives of the judging panel and Mr. Masahiko Kiya, former Consul General of Japan in Sydney, delivered their congratulatory speeches. They described the event as a memorable stepping stone in the development of Japanese sake culture, which is one of the key elements bridging Australia and Japan.
ASA Eligibility, Requirements, and Categories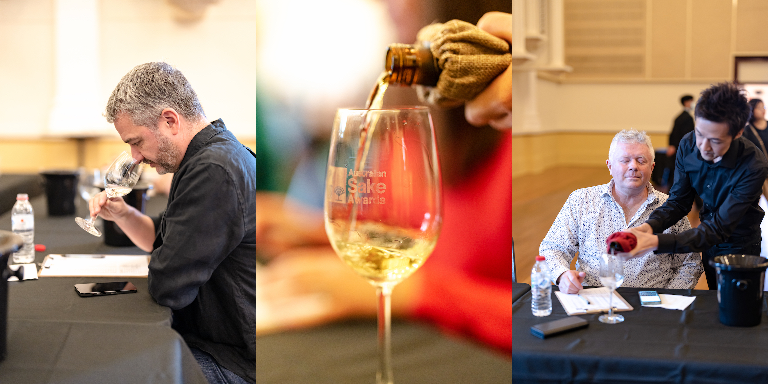 To be eligible for ASA entry, the sake must have been legally produced in either Japan or abroad and sold or scheduled to be sold this fiscal year on the Australian market. The tasting venue was protected from wind and direct sunlight, and the room temperature was maintained at around ​​​​20°C, with the sake at 12-14°C and both nama and nama-genshu sake at 5-7°C.
ASA has a total of 8 judging categories: Junmai, Junmai Ginjo, Junmai Daiginjo, Ginjo/Daiginjo, Nama/Nama-Genshu, Honjozo/Futsushu, Sparkling, and Aged, according to classifications of Japanese sake based on raw ingredients and/or manufacturing methods meeting specified standards. Groups of 10 judges sat at each table and tasted about 50 brands of sake, scoring them out of 100 points to select the best sake in each category.
Platinum Awards: The highest scored sake in each category
Gold Awards: The top 20% of the highest scored sake in each category
People's Choice Awards: 10-20 brands of sake from the entire sake lineup
The judges thoroughly enjoyed the sake tasting and the event concluded successfully. The scores and comments for each brand made by the judges will be sent to all sake entrants by email after the completion of screening.
The awarded sake will be announced at the Australian Sake Festival, held in Paddington Town Hall, Sydney, on October 1, 2022, with the purpose of introducing the value of sake to general customers while creating more sake fans. With entry tickets having already been sold out three weeks prior to the event, it appears to be more popular than ever.
Comments From the Leading Judges
We asked the two leading judges, who gave the opening ceremony congratulatory speeches, for their honest opinions after participating in the competition.
Ms. Simone Maynard(Sake Samurai)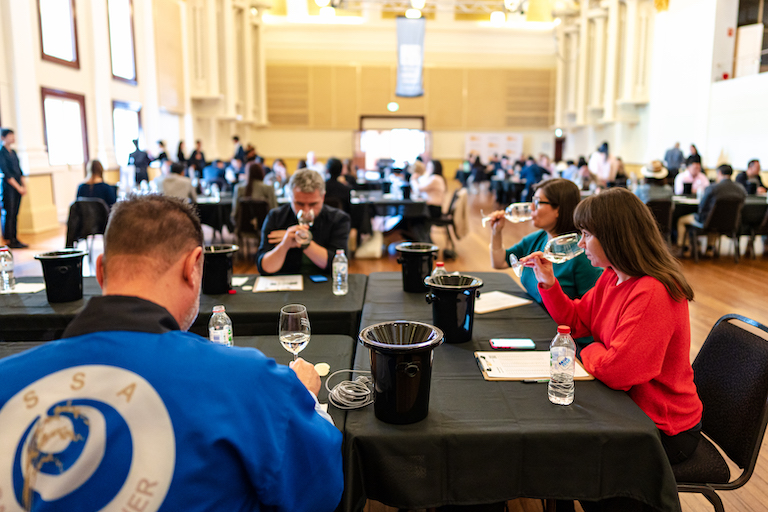 This was the first time for Australia to host Sake Awards. The event was incredibly well organised and the venue was well set out. There were some outstanding sakes in the line-up. I think ASA are in a great position to really change things up a little and offer a different style of sake awards moving forward. The staff pouring and helping out on the day were incredibly attentive and did a wonderful job. Considering this was the first time for this event to be held in Australia, I think it was wonderful and a great experience to be part of.
Ms. Sandra Gwee(SSA Certified Sake Educator & Sommelier)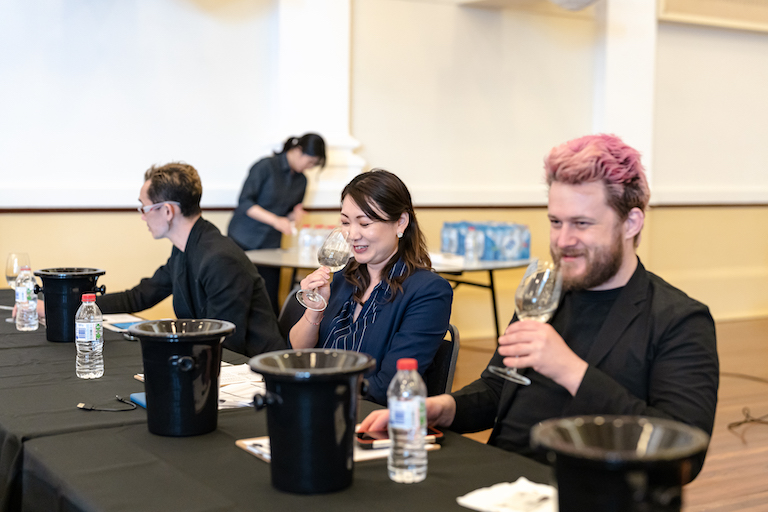 The overall event was well organised and met expectations. All parties involved who contributed is what made this event successful. 56 sake tastings were well organised for 65 judges to taste accordingly in consecutive order. The vocal prompts to notify the judges was a great strategy to inform judges of next sake and to finish scoring. It was fun and enjoyable and the fact people can share their experience made the judges much closer.
Affirming the Value of Sake and Aiming to Expand the Sake Market
In Australia, sake has recently become very popular. The value of sake exports (refined sake) from Japan to Australia has shown a steady increase over the last decade. In 2021, it reached 730 million yen (AUD $7.7 million), which is 7.7 times greater than the 96 million yen (AUD $1 million) recorded in 2009. This is due to a wider variety of sake being more available in Japanese restaurants, Japanese food retailers, and bottle shops across the nation.
There are more than 1,500 sake producers in Japan boasting a wide range of flavours. In Australia, consumer preferences are also diverse, and the consumption of sake is heavily influenced by the "store's recommendation" coming from information presented at retailers. It is expected that more sake consumers will encounter their "favourite sake" through such information from manufacturers and distributors, which will sustain higher prices and increased consumption.
Complementing this position, the Australian Sake Awards were held for the first time in Australia. The organiser for ASA, Mr. Tsuyoshi Endo, Managing Director of JAMS.TV Pty Ltd, explains the reason for holding the event: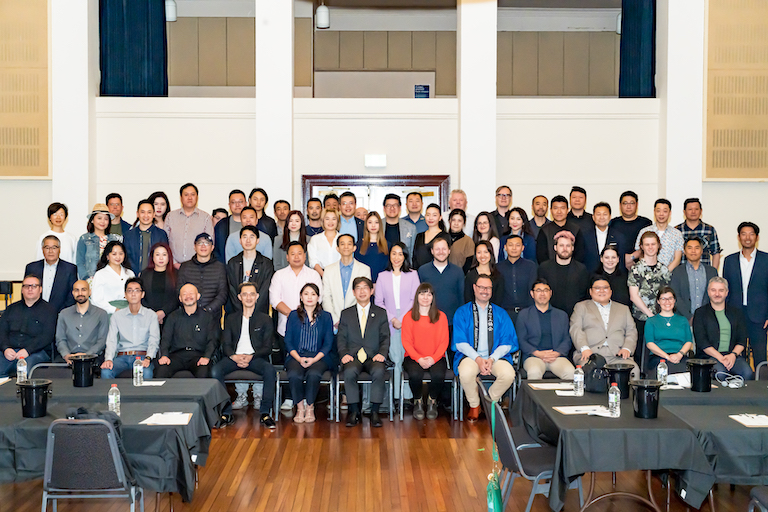 "Australia has an affluent and stable economy. The future agenda towards establishing a robust, long-term Japanese sake market here will be to promote the diverse attractions of sake and to cultivate more sake experts through educational opportunities. Each sake is brewed with great care by producers, and they each have different stories behind them. The key people to tell these stories directly to consumers are the sake providers, like restaurants and stores. The most important task for the future of the sake market in Australia is to increase the number of people in the industry who can provide such information directly to consumers. We aim to create more opportunities to expand the numbers of sake providers to further promote Japanese sake.
"We are so grateful that many people related to the field eagerly put their names forward to be judges for this event. It is an important step towards adding more value to the sake market through a better understanding of its diversity. We got a good feel for further marketing potential, and we're adamant that the competition was very useful in educating sake providers through the tasting and judging process.
"Japanese sake is Japan's national liquor. Through the ASA, we aim to have 50 to 100 sake judges each year to create more experts in Japanese sake. By encouraging sake experts, we're certain that the connection between the three parties of Japanese sake producers, Australian domestic providers, and consumers will grow deeper. We are willing to undertake this ongoing endeavour for the development of the Australian sake market together with all parties involved in this event.
"We also believe sake can enhance the appeal of Australia, a unique multi-ethnic nation where diversity is respected. With one of the world's best food cultures, being able to enjoy excellent Japanese food and sake will make Australia's standing even greater."
Mr. Endo is confident that ASA will realise its goal of developing more sake experts while promoting the breadth of sake to the Australian market. "This competition will be the start of a series of sake events with local sake distributors seeking to not only inform Australian consumers about sake, but to also increase the number of sake fans and stimulate their desire to purchase sake," Mr. Endo said enthusiastically.