Sake News was honoured to be selected to work alongside Oita Prefecture to showcase some of their outstanding sake, wagyu beef and regional specialties in Sydney NSW.
Oita Prefecture is located on the east coast of Kyushu (Japans 3rd largest island) and is known as Japans #1 hot spring prefecture; but more than it's natural beauty, Oita produces some of the best tasting products in Japan with incredibly high grade wagyu, delicious yuzukosho, shiitake mushrooms and of-course robust, balanced and full bodied sake.
The challenge for Sake News was how to limit our selection when there are so many incredible producers.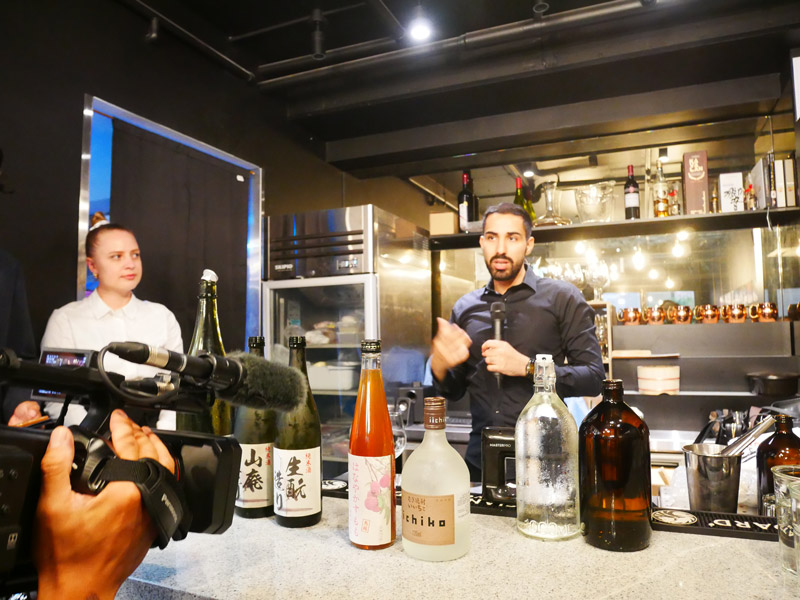 The event began with the savoury and creamy egg custard made with dried Oita shiitake mushrooms and bonito stock, the dish is rich with the shiitake mushrooms adding a strong savoury, earthy flavour. It is amazing how much flavour a single piece of dried Oita shiitake mushrooms added to the dish.
Many people were surprised that Shiitake is grown on 15-year-old oak logs and when the grow cycle is complete the logs are returned to forest where they help fertilise the next generation of trees.
Our next dish focused on Oita wagyu beef, with a delicate yet flavourful beef tataki. It was remarkable to see the skill of chef Yoshinobu Harada as he finely cut the beef into thin slices, quickly grilled them until the surface was browned before they were quickly wrapped and placed in the freezer;. During the tasting serve the flavour was further enhanced with the addition of a slight amount of yuzukosho which added a fresh and spicy taste.
Throughout the event guests were served Oita sake, shochu and liqueurs; beginning with Chiebijin Junmai Ginjo with has a pleasant sweetness before showing some outstanding savoury umami, it is an excellent sake both to easily match with food or drink standalone.
The next meal was the only seafood dish with the Vongole pasta ranking as a crowd favourite for it's simplicity and taste. The pasta is combined with dried powdered shiitake mushrooms, garlic and yuzokosho to flavour the clams; the dish is fresh, savoury and delicious. (yuzokosho is simply fantastic as an ingredient)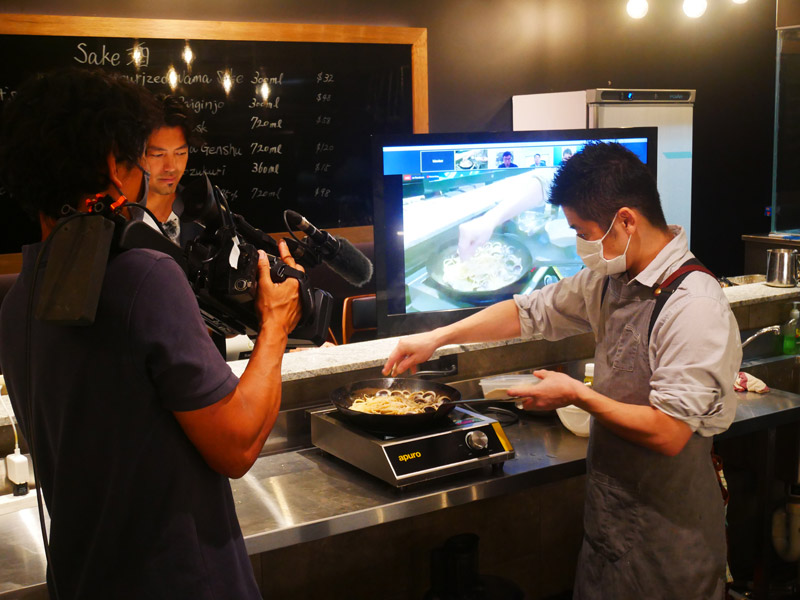 Another sake kura that was showcased was the 3rd generation Oita brewery: Senbazuru. Showing 2 of their Junmai using the traditional Yamahai and Kimoto methods. These methods rely on the lactic acid to be build up naturally instead of the modern method of simply adding lactic acid; not only does this take twice as long for the sake to ferment but it creates a more deep, fuller flavour which was certainly the case with both of these amazing sake (the yamahai narrowly etched out the kimoto as the crowd favourite).
Our final focus was on Oita's legendary wagyu beef, the beef has a strong animal welfare focus and an exclusive rating of 4-5 (exceptional) with mouth watering marbling, texture that melts in your mouth and a general better, richer flavour. This was paired with Oita's famous shochu- Iichiko mugi (barely); shochu can be drunk in a variety of ways but in this case we chose to serve it simply over ice with a small pour of water (it's amazing how much impact a little water had on the flavour), there was citrus notes and clear heat from the liquor. It made for a wonderful pairing as it both added to be wagyu's flavour and acted as a palate cleanser.
The event finished with a delicious sweet sumomo (type of plum) liquor by Senbazuru (Sato Shuzo) and a fragrant nashi liquor from Oimatsu Shuzo , both of these were delicious and were drunk over ice to help showcase their refreshing flavour. We absolutely love the many fantastic fruit liquors from Japan.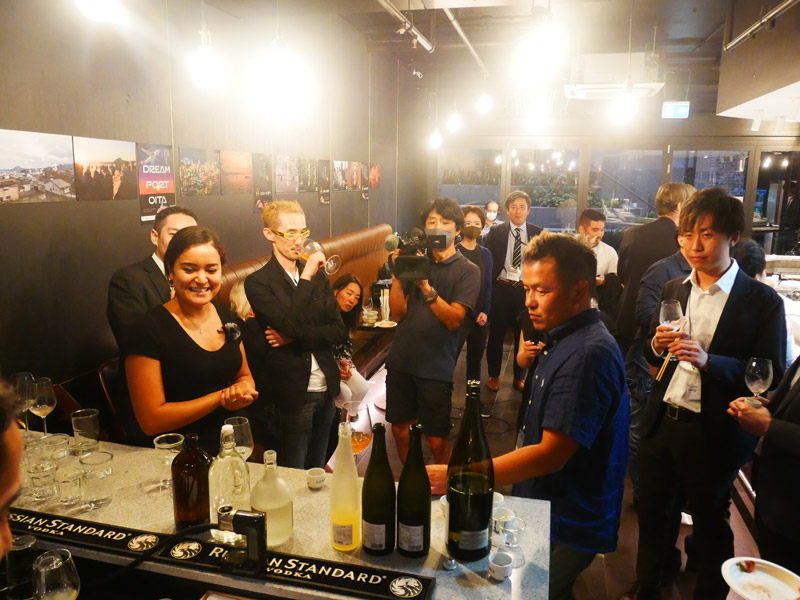 Finally we must thank the venue that so graciously hosted us, Restaurant Harada, Chef Yoshinobu Harada who expertly prepared all of our delicious meals, our guests and of course Oita Prefectural government who allowed us the opportunity to showcase the incredible products of Oita.
Kanpai, Daniel
OITA'S ALCOHOLIC BEVERAGES
IICHIKO (Sanwa Shurui)
Distributor: JUN PACIFIC CORPORATION PTY. LTD.
https://www.junpacific.com/
TOKYO MART SAKE ONLINE
https://sake-tokyomart.myshopify.com/
SENBAZURU (Sato Shuzo)
Distributor: SAKESHOP
https://www.sakeshop.com.au/
CHIE BIJIN (Nakano Shuzo)
RIEN NASHI LIQUOR (Oimatsu Shuzo)
Distributor: DAIWA FOOD CORPORATION PTY. LTD.
https://ichibajunction.com.au/
SAKE ONLINE
https://sakeonline.com.au/