18 Dec – Sydney – Sake Night at Yulli's Brews
Event Information
Area
sydney
Date
Dec 18, 2019

*This event has finished.

Price
$70
Venue
Yulli's Brews, 75A Burrows Road, Alexandria NSW 2015
Web
https://www.yullisbrews.com.au
Organiser
Yulli's Brews, Sake Connect
Australia's newest saké brewery Yulli's will be hosting a very special tasting to showcase Japan's national drink, featuring a specially created 5 course meal, expertly matched by 5 distinct saké presented by the legendary saké educator Melissa Mills (Sake Connect) and head brewer (Toji) Chiho Uei.
This particular event brings both a saké brewer and saké educator together and will have a wealth of information to offer to attendees, from people trying their first saké to home brewers looking to gain a new perspective or technical knowledge; all in the most friendly, relaxing atmosphere we can think of, a brewery/pub.
Yulli's is an entirely vegan venue, which also has the added bonus of allowing Sydneysiders to try the incredible Japanese inspired 5 course meal along with the handle selected (with at least 2 made onsite) saké, for vegetarians/vegans, it's a refreshing change of pace as plant based foods can be difficult to find at Japanese restaurants.
We cannot wait for the event hosted by the creator of some of the most unique, funky and natural sakés we have had the privilege of trying, alongside one of the most knowledgeable saké educators in Australia and we cant forget the carefully matched, vegan friendly foods from renowned Yulli's chef Tuan Nguyen.
What – Sake Night at Yulli's Brews
When – Wednesday 18th December, 19:00 – 21:30
Where – Yulli's Brews, 75A Burrows Road, Alexandria NSW 2015
Ticket – $70
Ticket can be purchased from here.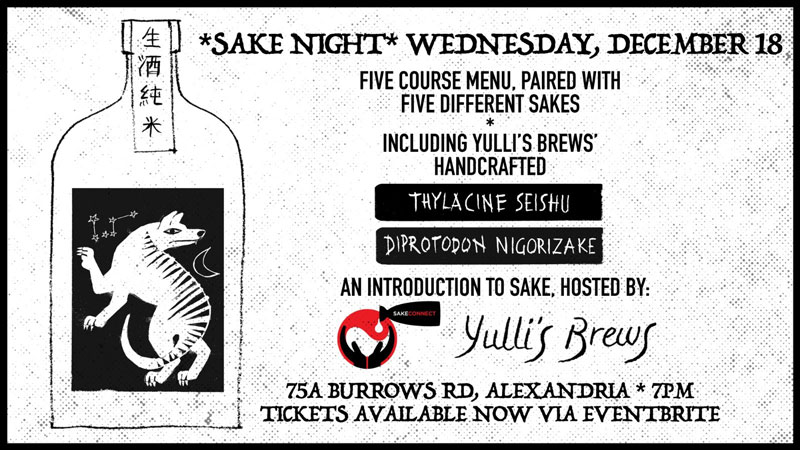 About Yulli's Brews
Yulli's Brews is a craft brewery located in Alexandria, Sydney. We make good beer, cider, sake and vegan food for all to enjoy.